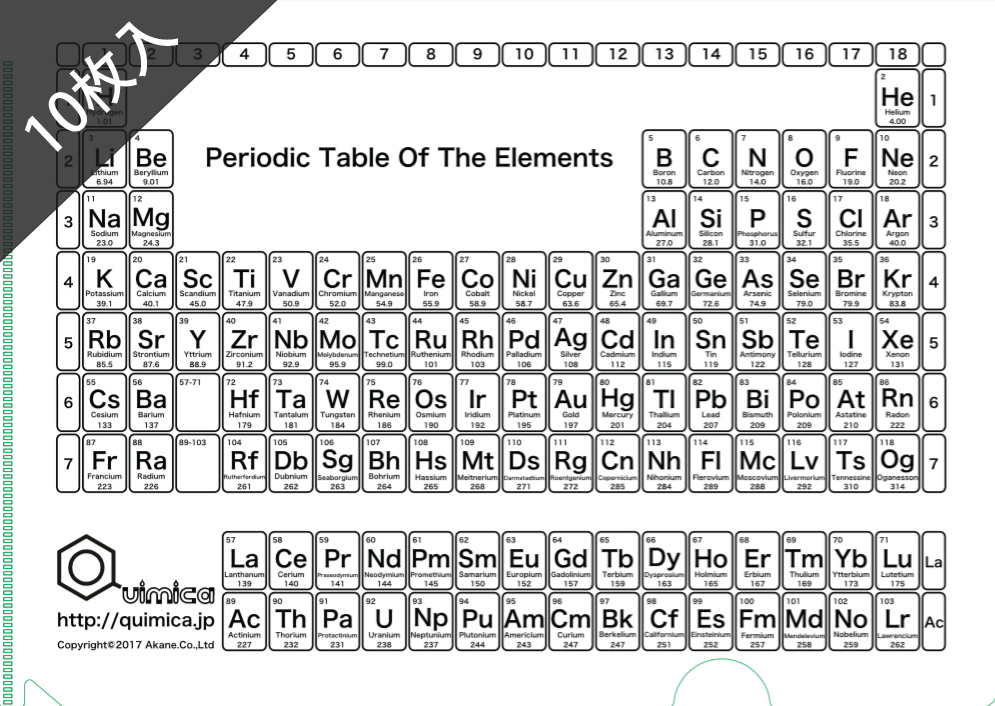 この商品の発売日は9月9日です。
【商品情報】
 サイズ:310mm × 220mm
 材質:A4クリアファイル
 ブランド:Quimica
 色:ブラック(背景透明)
 枚数:10枚
【商品の特徴】
・周期表がデザインされたA4サイズのクリアファイルです!
・原子番号113のニホニウムを含む原子番号118まで掲載。
・原子量が有効数字3桁まで掲載されているので物質量の計算にも便利!
・全英語表記のスタイリッシュなデザイン!
The release date of this product is September 9.
[Product information]
Size: 310mm × 220mm
Material: A4 clear file
Brand: Quimica
Color: Black(Background transparent)
Sheets: 10 sheets
【Product Features】
· It is a clear file of A4 size with period table designed!
· Up to atomic number 118 including atomic number 113 with Nihonium is posted.
· Because atomic weight is posted up to three significant figure digits, it is convenient for calculation of substance quantity!
· It is a stylish design of all English notation!
Please contact us by e-mail for shipping fee etc. of international flights.▶Contact Us